PIMDI how and why – A methodological approach
Helene Illeris0
Background
From the beginning of the project, PIMDI grew out of a shared concern among the partners regarding what we defined as 'the paradox of democratization' meaning that "stimulating diversity, democracy runs the risk of losing the common ground that allows for an interaction between perspectives" (application, p. 3). Thus, the intent behind the project was to use our common professional field, art education, to experiment with performative, embodied and imaginative arts-based approaches to dialogue in order to see if and how we could explore diversity in the act of valuing without losing our sense of togetherness. Through moving, sharing, listening, sensing, drawing, writing etc. we wanted to open new fields of dialogue, not by erasing differences, but by exploring them, trying to understand the underlying personal and cultural acts of valuing.
                      As partners, we came to the project with different theoretical, artistic, and pedagogical backgrounds and thus with different theoretical ideas and concepts. Although we shared a view on arts education as an explorative and open-ended practice, each of us brought unique methodological and theoretical perspectives arching from critical pedagogy over post structural, performative, and decolonial educational approaches, to new materialism and eco-art. However, and very much in accordance with PIMDI's basic dialogical approach, we did not start the project by sitting down and discussing these differences, but rather, together with the participating students, we almost immediately began to enact them. In fact, one could say that the PIMDI methodology was never theoretical or methodological per se, but always grew out of very concrete proposals of how to do imaginative dialogue. Instead of describing, PIMDI is first and foremost a form of practice, a doing.
Notions
As shown in the PIMDI curriculum and tool box, PIMDI engages with some basic notions that remain with us when we plan and take part in PIMDI intensive weeks, and also when we work with PIMDI-related activities in our individual Master's programmes. These notions are dialogue, imagination, difference, and valuing. The notions are not borrowed from specific theories but are the basic notions of a common arts-based methodological approach, designed out of the urgency to stimulate dialogue in an increasingly polarized European and global situation. Common to the four notions is that they were initially mentioned in the application for the project, and that their significance was continuously strengthened and enlarged through our practices throughout the project. 
More concretely, the notions were incorporated in typical PIMDI activities through the learning movements of exploring, inviting, and engaging.  In exploring for example, a space, a landscape, a movement, a narrative or different objects, imagination together with dialogue plays a central role. Through this initial exploration differences might appear, and the dialogue continues, though not in the form of a discussion but rather as an encounter and an interaction inviting the participants to embody or visualize the values that they are exploring. In the third learning movement, engaging, the notion of valuing becomes even more important as differences in the act of valuing that have appeared through imaginative dialogues are connected to urgent questions and to the participants' own professional practices as (emergent) teachers and artists.
Metaphors
In the development of the PIMDI methodology, we adopted three different metaphors which were then explored as pedagogical approaches during the three intensive weeks in Helsinki (2021), Kristiansand (2022) and Reykjavik/Skalholt (2022). The three metaphors were the Circle, the Diamond, and the Turf.  These metaphors should not be seen as abstract models or symbols, but rather as embodied, process-oriented materializations of experience based within pedagogical thinking as it permeates the space and time of pedagogy as active, ongoing processes. Although the order of the metaphors should not be strictly understood as a progression, they still indicate a process beginning with the Circle and ending with the Turf.
The Circle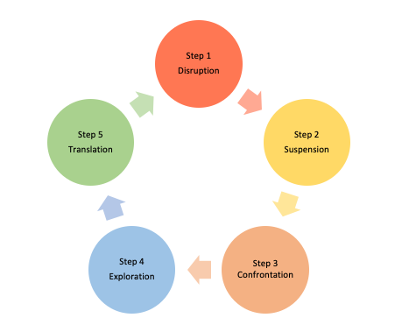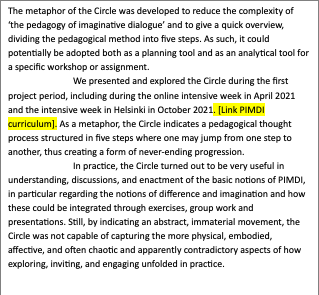 The Diamond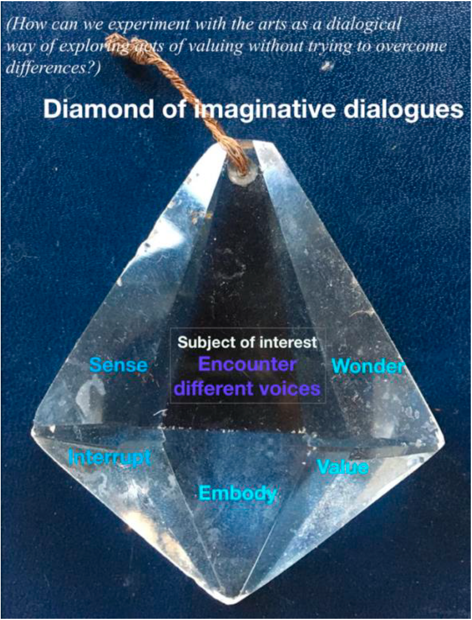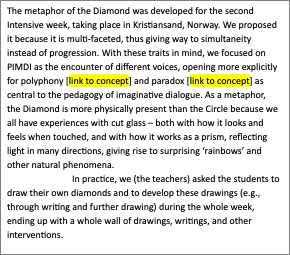 The Turf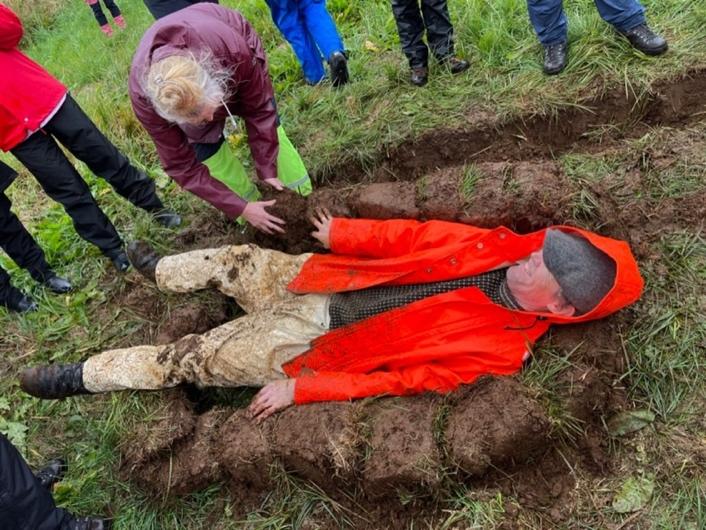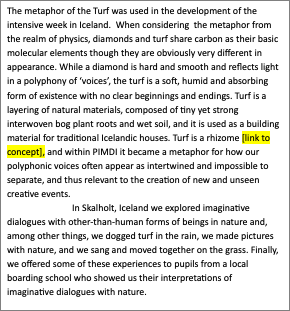 Concepts
During the project period a number of theoretical concepts were brought to the table by the researchers/teachers in relation to the PIMDI activities. Many of these concepts were introduced in relation to practice and different perspectives on imaginative dialogue. The concepts can thus be used to highlight specific aspects of the notions and metaphors. For example, one of the 20 concepts, embodied dialogue indicates an important aspect of the notion of dialogue and is explained by Eeva Antilla through Martin Buber's philosophy on the relational and nonverbal foundation of human existence.  Another concept, polyphony, was used throughout the project to indicate the many different voices present in the dialogue and is explained by Nathalie Beekman through the theories of M. M. Bakthin and Hermans & Hermans-Konopka.
All of the PIMDI concepts are presented in the theoretical sheets [link]. Here you can find short presentations of 20 concepts with examples of how they have been used in practice and with explanations of their relevance to the PIMDI pedagogy. We have chosen to put the concepts in alphabetical order because we see each of them providing theoretical inspiration in their own unique way. However, as illustrated in the drawing below, one could point to certain 'clusters' of concepts belonging together more than others. The clusters should thus be seen as pragmatic examples more than 'truths' about how the concepts could be grouped. The clusters, as grouped together below, are inspired by the headlines of pedagogy, art, body and philosophy.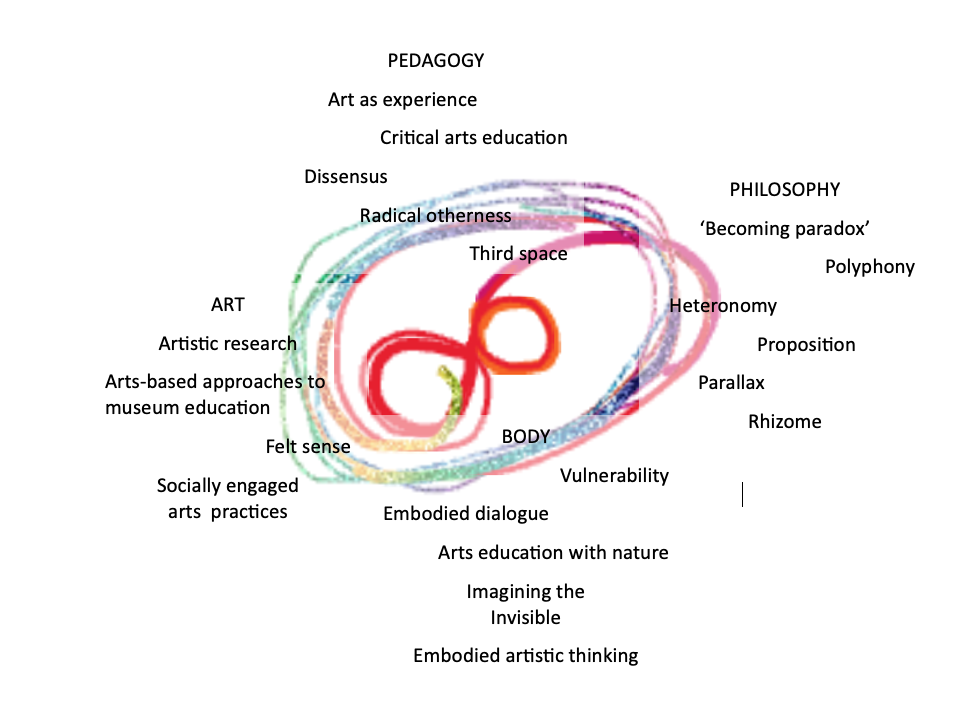 Methodology: PIMDI as an explorative space of dialogue through arts education
In PIMDI, theory and practice is always woven together in embodied forms of doing. Thus, the methodology cannot be described as a series of predefined steps leading to certain outcomes. Quoting Irit Rogoff, one could say that methodologically a pedagogy of imaginative dialogue is always "starting in the middle", with a concrete situation taking place in a concrete space, including living embodied persons, objects, sounds, light, smells etc. As indicated by the metaphors, PIMDI is circular, polyphonic and rhizomatic, it moves in three dimensions, it is always in progress or expansion, one never knows where it will end.