Concepts
Critical arts education
Tormod Wallem Anundsen
There is of course not just one definition of critical arts education, and in PIMDI we have been working mainly with the dialogical and explorative aspects of this approach. We can thus look into concepts and discourses of education, art and criticality that may be paths worth exploring, and which have also informed the pedagogy of imaginative dialogue. 
Irit Rogoff, professor of Visual cultures at Goldsmiths, University of London, distinguishes between criticism, critique and criticality, and observes a change in critical research and education along the lines of this development:
[…] we have moved from criticism which is a form of finding fault and of exercising judgement according to a consensus of values, to critique which is examining the underlying assumptions that might allow something to appear as a convincing logic, to criticality which is operating from an uncertain ground of actual embeddedness. (Rogoff, 2006, p. 17)
In Rogoff's perspective, challenging arts education and arts researchers to explore the potentiality of criticality implies an embeddedness, a will to explore critical issues in arts and education (and the world at large) from a starting point within our own practices as teachers, students, artists and researchers. Such an approach invites inhabiting problematics, starting in our own practices and with our own questions, rather than just analyzing questions and critical issues (Rogoff, 2006, 2016). 
This perspective resonates with Paulo Freire's (1970, 1974) ideas of education as a critical, explorative practice. Freire proposes that teachers and students dialogically explore the conditions surrounding them, in order to change these conditions and challenge oppression.
ExampleIn 2016, Helene Illeris and Tormod W. Anundsen (who are also PIMDI researchers) initiated the project Art as education / Education as art, starting from a frustration with the conditions of a transdisciplinary study programme in arts: the spaces were inadequate, and the institutional ideas of what a study program was were increasingly dominated by administrative 'quality assurance' systems. Inviting the students and teachers to collectively treat and perceive the study programme as a social arts project, we started to change the spaces, the teaching, the way students presented their work, and how we related to the institution and the public (Anundsen & Illeris, 2019; Illeris, 2018). This was critical research in and as arts education, from Rogoff's idea of criticality as inhabiting problems rather than just surveying and analyzing them.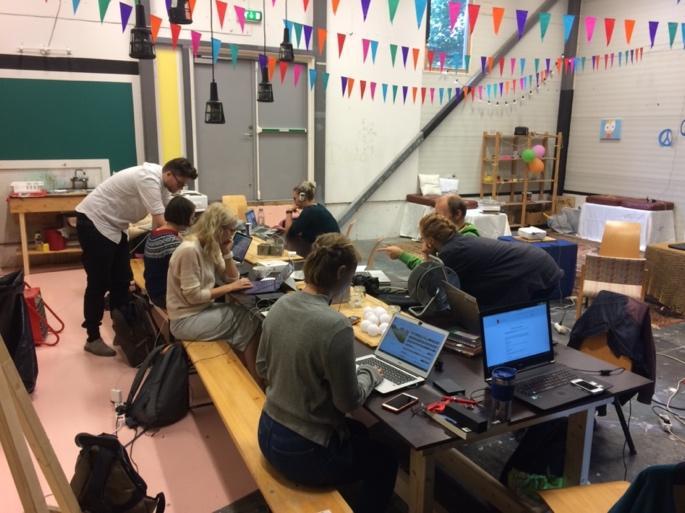 Students from the Master's programme of fine arts at the University of Agder working in a self-created study space during the project Art as education / Education as art. Photo: Tormod W. Anundsen
Relevance for the pedagogy of imaginative dialogue
For PIMDI, such perspectives on critical arts education are relevant, first, in the way that the project itself explores questions from within an arts educational practice as its methodological approach. Second, exploring the concept of dialogue resonates with critical arts education: Paulo Freire sees dialogue in education not as a method for the teacher teaching the student, but as a foundation for how teachers and students can explore the world together in order to change it. 
References
Anundsen, T. W., & Illeris, H. (2019). Inhabiting practice: Performative approaches to education and research as art. In A.-L. Østern & K. N. Knudsen (Eds.), Performative approaches in arts education: Artful teaching, learning, and research. Routledge. 
Freire, P. (1970). Pedagogy of the oppressed. Seabury Press. 
Freire, P. (1974). Education for critical consciousness. Seabury Press. 
Illeris, H. (2018). Uddannelse som social kunstform? Kunstneriske og pædagogiske dilemmaer i forskning med kunstfaglig uddannelse [Education as a social art form? Artistic and educational dilemmas in research with artistic education]. Journal for Research in Arts and Sports Education, 2(1), 23-38. https://doi.org/10.23865/jased.v2.1133 
Rogoff, I. (2006). Academy as potentiality. In A. Nollert & I. Rogoff (Eds.), A.C.A.D.E.M.Y. (pp. 13-20). Revolver. http://summit.kein.org/node/191 
Rogoff, I. (2016). Starting in the middle: NGOs and emergent forms for cultural institutions. In J. Burton, S. Jackson, & D. Willsdon (Eds.), Public servants: Art and the crisis of the common good (pp. 465-479). MIT press.