Dramaturgy
The foundations of a PIMDI curriculum were developed during so-called intensive weeks. For 5 days, students and teachers from all four master's programmes worked together intensively to explore what imaginative dialogue could be, partly in cooperation with local partners. 
We experienced and designed the curriculum as a dialogical space, a performative event with a certain time and space structure, a kind of dramaturgy. In working on artful dialogues in international mixed groups, we discovered recognisable and recurring elements and movements.
Before naming these elements, or components of a PIMDI curriculum, we must first briefly describe the main learning processes and practices of the intensive weeks. Besides an additional online week, these took place in Helsinki (October 2021), Kristiansand (April 2022), Reykjavík/Skálholt (September 2022), and Groningen/Wehe-den Hoorn (April 2023). The intensive weeks were hosted by the local master's programmes. From each partner university, an average of six students and two teachers participated in each week.  The students worked in mixed groups of four students.
Intensive week in Helsinki (October 2021)
In the beginning, students encountered each other by sharing small personal stories. They were   introduced to the idea of 'imaginative dialogues' and the theme of 'a/be present for the elderly' through lectures and collective exercises. Mixed student groups designed embodied dialogues as a form of 'a present' but also in the form of 'being present' LINK. In the senior homes, students invited the seniors (dementia patients), to join the imaginative dialogue by feeling and sensing, drawing, dancing, and singing. On the last day of the week the students shared their experiences and reflections and connected their insights to the development of PIMDI and to their own art education practices.
As our methodological metaphor for this week we have chosen the Circle.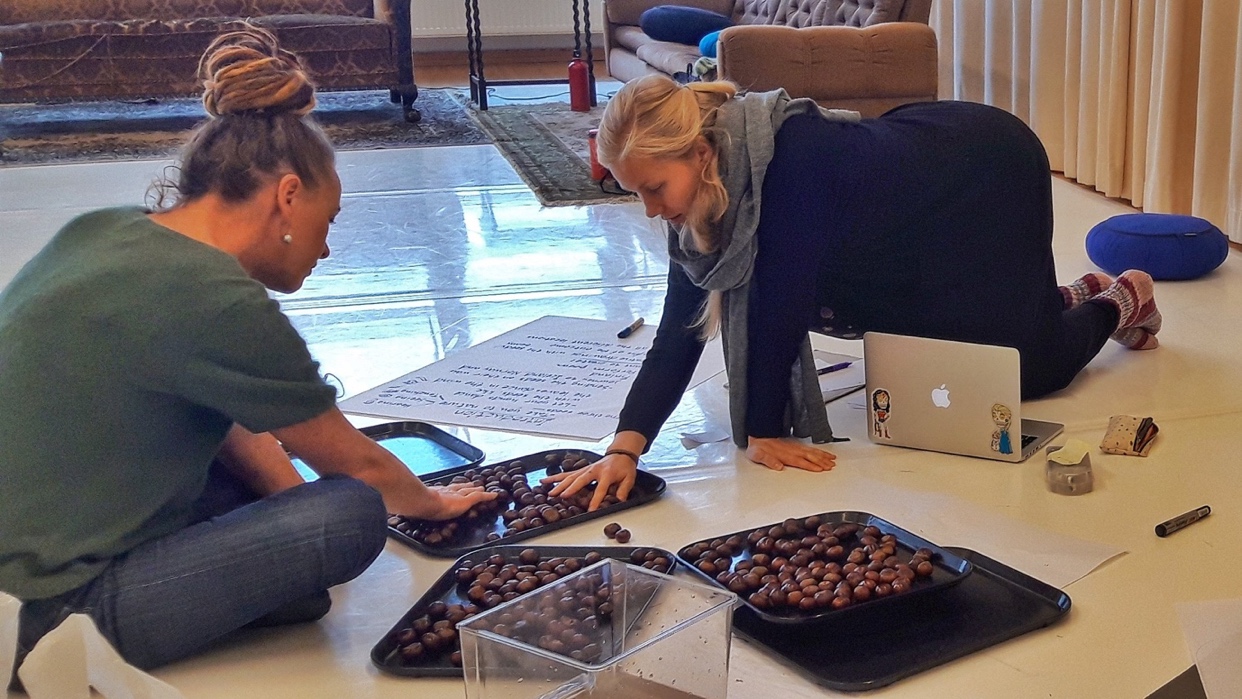 Intensive week in Helsinki, October, 2021. Photo: Carry Rosenblatt Limpens
Intensive week in Kristiansand (April 2022)
During this week, we collaborated with Sørlandet Art Museum (SKMU). We started with a workshop 'Deconstruct the museum' LINK. This was followed by an introduction to the PIMDI project and teacher-driven exercises. Internationally mixed student groups initiated workshops based on art works in the museum as imaginative dialogues for children from an art school. On the last day, students presented their workshops and reflections to each other. They experimented with embodied reflections in nature and with a 'diamond' as a reflective tool.
As our methodological metaphor for this week we have chosen the Diamond.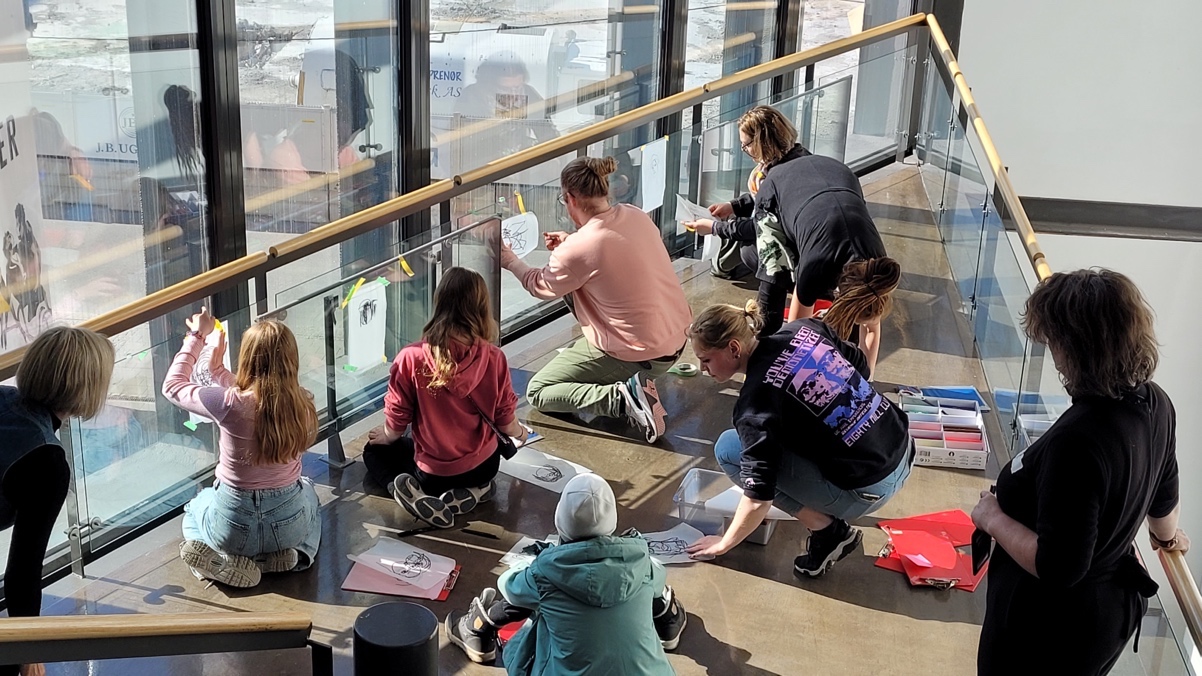 Sørlandets Art Museum during the intensive week in Kristiansand, April 2022. Photo: Helene Illeris
Intensive week in Reykjavik/Skálholt (September 2022)
In Iceland, we added a new element to the intensive week: After an introduction to the theme (dialogue with nature) by a lecturer from the art school in Reykjavik, we spent 3 nights in the countryside working, eating and sleeping together. Particular attention was given to listening, embodied listening to nature, and radically listening to other human. In addition, we introduced a new element in the form of a common challenge: walking up a hill.
Compared to previous intensive weeks, there was less emphasis on working with a local partner in Iceland. Inspired by teacher-driven exercises centred on sensing, writing, and drawing (link), mixed student groups facilitated a small workshop for high school students on Thursday. The final day was then dedicated to sharing and reflecting on experiences and their meaning for a pedagogy of imaginative dialogues.
As our methodological metaphor for this week we chose the Turf .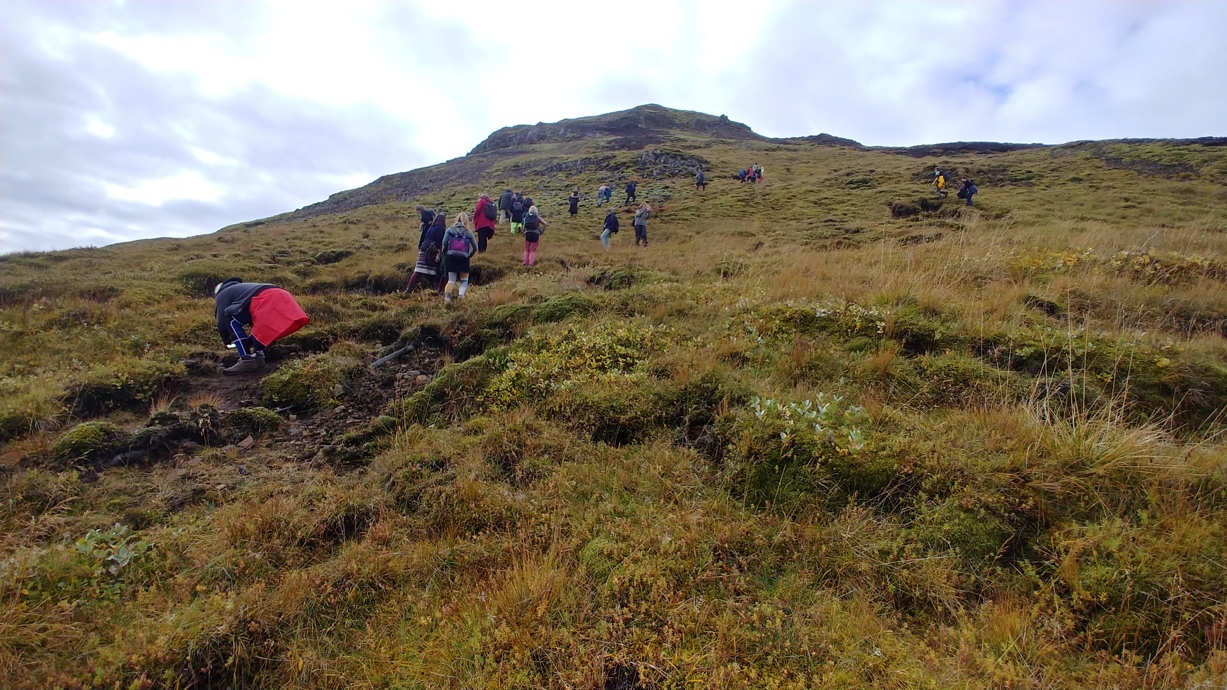 Intensive week in Skáholt, September 2022. Photo: Helene Illeris
Intensive week in Groningen/Wehe-den-Hoorn (April 2023)
In the final intensive week, we tried to incorporate key insights from the earlier weeks such as: the importance of safety and transgression at all stages of PIMDI, focus on a shared working and living space while exploring boundaries in physical challenges.
Students were given ample time in international mixed subgroups to explore the theme (safety and transgression) from their own sense of urgency, and to share experiences and spaces with others in self-designed dialogue spaces. Link to the envelopes?
We decided not to design a workshop/imaginative dialogue for a local partner. This allowed time to test the designed imaginative dialogue space with each other. Based on the peer feedback, the dialogue spaces were revised to invite external participants into them on the final day. The week ended with individual multimodal reflections shared afterwards.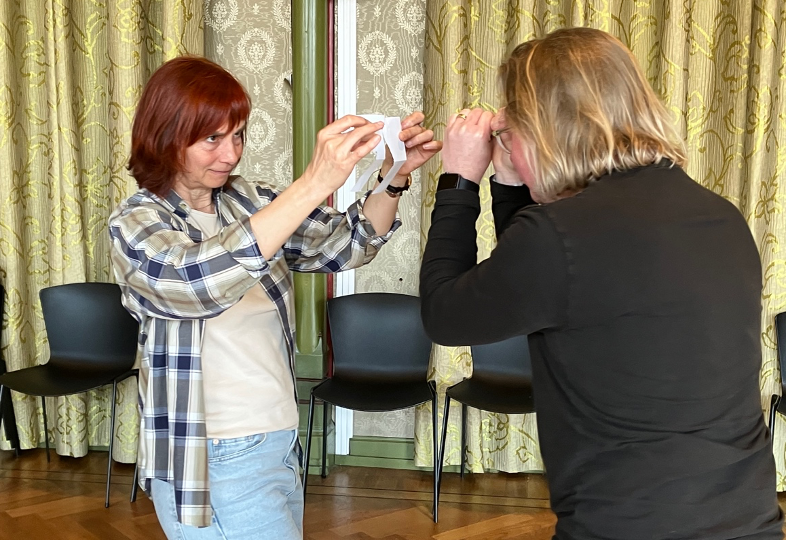 Intensive week in Groningen, April 2023. Photo: Gudrun Beckmann 
Components
Despite different places, local partners, and focus, all four intensive weeks built on and contained the following elements:
An introduction to PIMDI, to each other and the focus or theme of the week. This is accompanied by readings and teacher-initiated tasks and exercises performed by the whole group (25-35 persons).
Students' group work across nationalities (typically groups of four students, one from each country); this group work directs attention to playful questioning, discovery and exploration of cultural, professional and discipline-related differences.
An assignment for an imaginative dialogue (a dialogue space with 'rules') regarding specific burning issues or purpose, participants, or location. Students create the dialogue by experiencing, experimenting, and testing.
Collaboration with local participants; encountering the participants, inviting them into an artful encounter, an imaginative dialogue, embodied, visual, and/or performative.
Reflection and presentation of the design and enactment of the collaborations.
Further development of 'PIMDI'-based arts education and community building. Transfer of experiences and insights gained during the PIMDI curriculum to one's own professional field and needs.
During the whole process: Daily embodied individual reflection guided by teachers.
(Learning) Movement
The components of a PIMDI curriculum, which encompasses the learning process and the dramaturgy, can be categorized into three distinct learning movements. Each movement consists of a beginning and an end, extending and concluding in a purposeful manner. When the movement concludes, the learning experience gains significance and fuels further progression. These learning movements draw inspiration from Simon Kavanagher's 'learning arcs' (2019), although we prefer to refer to them as learning movements due to the emphasis on physical embodied experiences and dialogue within PIMDI.
Based on the insights gained from four intensive weeks, we have identified three key learning movements within the pedagogy of imaginative dialogues:
1. Exploring
During this learning movement, the emphasis is on fostering an understanding of each participant's diverse backgrounds and introducing them to the PIMDI philosophy. Additionally, participants become familiar with the specific focus or theme that enables meaningful imaginative dialogues.
2. Inviting
Building upon the insights gained through exploration, special attention is given to creating a dialogue space that encourages the initiation of imaginative dialogues with others. Participants are invited to engage in designed and facilitated dialogues aimed at exploring differences.
3. Engaging
In this stage, the documented and reflected insights from the performed imaginative dialogues are connected to urgent questions and one's own arts educational practice. Simultaneously, these reflections contribute to a shared PIMDI knowledge base and ensure the continuity of arts education as a space for dialogue.
Further movements
Several smaller movements can be distinguished within the three separate learning movements:
A movement from ourselves to the other and to the larger world.
A parallel movement between the participant/student who is at the same time teacher/artist-educator, a movement of transfer from learning to teaching and from teaching to learning.
A movement from being unconscious and invisible to becoming visible and conscious, to managing, and finally, to being able to connect with one's own professionalism.
There is an overarching movement that is about starting up and rounding off the movements of Exploring, Inviting and Engaging. This involves a Beginning (preparing the field for these smaller movements to happen), an Ending (rounding off the process), culminating in engaging (in) the bigger world. After introducing the movements of Exploring, Inviting and Engaging, we will elaborate on this bigger movement.